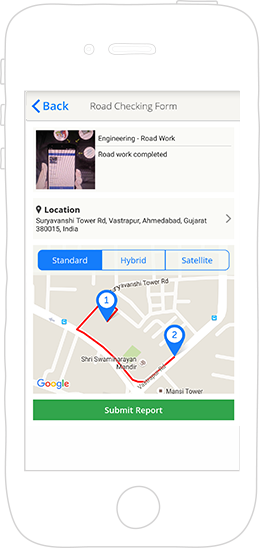 GPS Road Checking Module is the most valuable tool for road engineers and crews as it has made the entire process of generating and maintaining the roadway systems simple yet consistent. Being an easy-to-use module, it has replaced the paper-based information about material testing, inspection activities, road construction and geotechnical investigations. Users can easily report to their seniors about their assigned road task by collecting complete field data on their handheld devices like smartphones and tablets and report it.

Making Process Fast to Maintain the Roadway

Cloud base data Checking anywhere
How Does the GPS Road Checking App Works?
The GPS Road Checking application is a cloud-based that means it is completely safe, secure and free from any type of risk of crashing or being erased. The app works in real time on both the devices iPhone and Android.
In the field
Serves Field Workers with Easy Entry Using Pre-Defined Forms and Menus
Information and Data Entry Can Be Easily Done in a Non-Office Setting
Enables Field Workers to Access Relevant Information from all Aspects of the Project at Any Time
Allows field workers to access relevant information from all aspects of the project at any time
Keep Tracking of Progress of the Road Construction on a Regular-basis
Instant Accessing of Where the Construction is Taking Place
In the field
Provides field workers with easy-entry using pre-defined forms and menus
Information and data entry is easily done in a non-office setting
The system is real-time making the delay between entry and receipt by office staff nonexistent
Allows field workers to access relevant information from all aspects of the project at any time
The app tracks the progress of the road construction on a day to day basis
Tracking of where construction is taking place is immediately accessible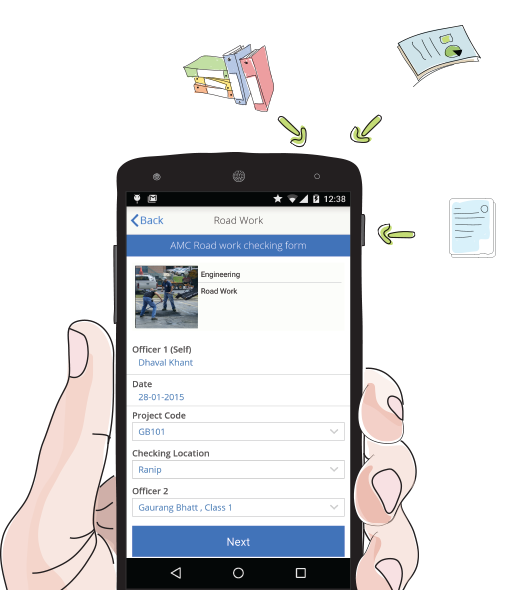 What is the "GPS Road Checking" App?
The GPS Road Checking app replaces the hard copy (paper) system of charting and recording on-site road design, construction and inspection reports.
The Administration Component
The administration component is completely cloud-based, we use industry standard standard SSL Encryption and our system is hosted on AWS (Amazon Web Services). The main features of the administration component of the GPS Attendance Tracking system include

Additional API's Features
Integrates with your current employee attendance-based information such as payroll and leave time, we provide private access to API's as a additional features.

Advanced Reporting
Admin have access to multiple online reports to track attendance and calculate attendance. Reports can be exported to different formats allowing for easy integration with Payroll systems.

GPS Driving Route
If the event is specific to days or period, then admin can define start and end of the event, hence admin can configure different time zones and work shifts.

Cloud-Based Backend System
Because our backend system is cloud-based, there's no software or hardware to maintain. Officials & Managers can access their time and attendance data anywhere they have access to the internet.
"This is about creating innovative approaches to everyday issues," SMCL said. "Not only does this improve efficiencies within the City, but it provides a platform for addressing community issues with cost-effective technology. Through this new service, Surat continues to show its progress as a technological and innovative leader in India."
SURAT MUNICIPAL CORPORATION
"This is about creating innovative approaches to everyday issues," SMCL said. "Not only does this improve efficiencies within the City, but it provides a platform for addressing community issues with cost-effective technology. Through this new service, Surat continues to show its progress as a technological and innovative leader in India."
SURAT MUNICIPAL CORPORATION
Turn Complaint into helping hands
Learn about  Smartcity partner towns and cities similar to yours
Discover the power of location with the award winning Smartcity mobile app
Get a full tour of the newly launched  Smartcity service request management and workflow platform
Find out if Smartcity is a fit for your town