NDMC – 311 app was mentioned on twitter by New Delhi Municipal Council (NDMC)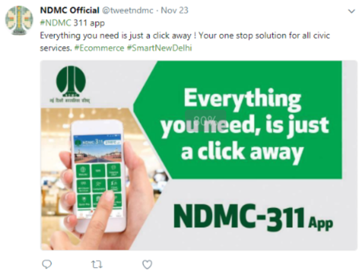 What better than being mentioned by some of the Influencers and Official accounts on Twitter and al-together get appreciated for our efforts! Recently on 23rd November 2017, our mobile-based NDMC-311 app which is also a part of our SmartCity-311 was praised in one of the most unique and remarkable ways by none other than the New Delhi Municipal Council (NDMC). Our mobile app NDMC-311 is available for the citizens of Delhi to get access of all the civic services related to online bill payments, reporting any complaints against issues like water logging, malfunctioning of street lights and many more.
We offer our thanks to NDMC for this gentle appreciation, it means a lot to us and we will make sure to continue making efforts for a better tomorrow.