Smartcity-311 Solution Awarded SKOCH Smart Award 2015 By Skoch Group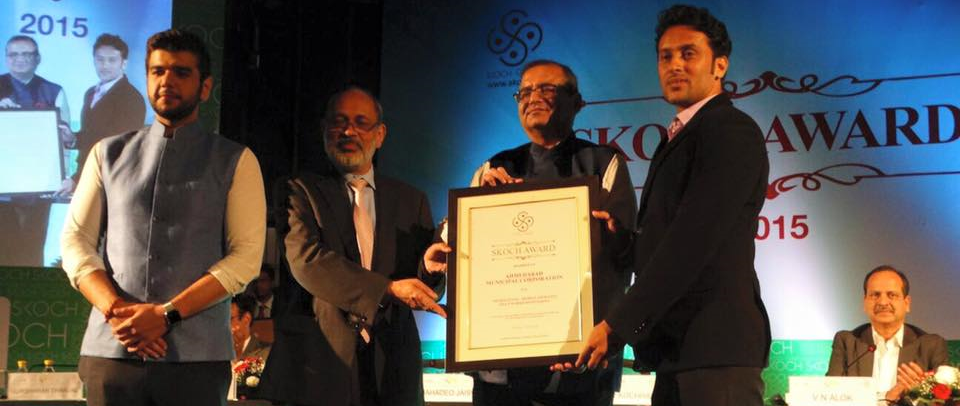 On September 25, 2015, SmartCity-311 – Mobile App Based on Field Work Monitoring has been awarded Skoch Smart Governance Award 2015 by Skoch Group, which is a Gurgaon based think tank dealing with socio-economic issues with a major focus on inclusive growth since 1997.
SmartCity-311 is a complete suite that comes with different modules, including public grievance, field work monitoring, GPS attendance, GPS road checking and project tracking. These five different modules of the application are extremely best and effective in terms of features, functionality and performance.
When it comes to the Skoch Smart Governance Award, it is an initiative recognizing top performing government organizations and organizations working with the government, operating at local, state and national level in the area of Urban Development, Health, Education, Rural Development/Panchayati Raj, Finance, and Security.
The organization is giving this award as it is considered a step towards recognizing the best practices and models of governance for effective yet efficient implementation of programs and services delivery. Moreover, the organization is offering the best governance practices in an ecologically and socio-culturally sustainable way that are requested to send the nominations. It should also demonstrate innovation in its governance practices passably responding to local conditions.
There were more than 40 projects that took participated in this competition, including our project and the event declared smartCity-311 solution as a winner of the competition. It was an extremely big achievement for our company as our solution has been declared as a winner of the competition.
Once our developed solution implemented for Ahmedabad Municipal Corporation, everyday activity of all the AMC employees can be tracked on a real-time basis. The application also enables to track all the roads that are paved in Ahmedabad. Therefore, all the work that done has been recorded and images are captured at the time of actual work and all those images are geo-tagged to the location of work. Likewise, all the other forms of works also documented and recorded in the system.
Being the part of the process, the Awards Committee is established that comprises of senior professionals from academia, government, industry and other stakeholders in the area of governance. On the basis of information that sought in the described format, the initial screening of the project is carried out. In case, if the additional information is required, it would be sought and may be supplemented with Skoch's own research or the knowledge base of the Awards Committee.
To declare the winners, public voting is solicited for broader stakeholder consultation and gets a weightage dogged by the Awards Committee depending on the nature of the project. After that, the Awards Committee thinks and decides on the awards. For more information, visit here.
About Everythingcivic.com
Civic Solutions Pvt. Ltd, division of the Space-O Technologies, designs and develops mobile applications and cloud-based software solutions for government agencies. The company has developed enormous solutions like SmartCity-311, iPromise, GeoMine, VBD Tracker and more for government organizations and other enterprises. With its proficient and experienced team, the company is capable enough of handling complex challenges efficiently and deliver outstanding quality solutions.