UMC Sewa app launched by Ujjain municipality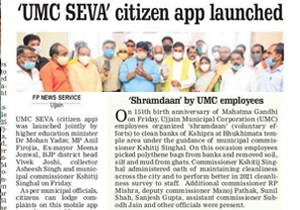 In order to help Ujjain Municipality carry out their tasks efficiently and let customers register their complaints, UMC Sewa (Citizen App) was launched on 3rd October 2020. The event was inaugurated by Anil Firojiya- MP, Mohan Yadav- Higher Education Minister, Ashish Singh –Collector, and Kshitij Singhal- executive director and commissioner of USCL. The app can be downloaded from Google Play Store and used to access the various services offered by Ujjain Municipality. To start using the app, the residents need to register in it using their mobile number. More than 100 residents downloaded and used the app on the first day of launch.
The residents can also use this app to register various issues like strayed animals, uncleanness, lack of lightning, unavailability of drinking water, etc. In case residents find that certain area in the city is not cleaned daily or the garbage collection truck does not come daily then they can simply take the photos related to the issue and upload it on the app. The officials are obliged to resolve the matter within the stipulated time and upload images showing the work has been done. Moreover, the complaints registered on the UMC Sewa will be directly visible on the official Smartcity 311 app. Additionally, the app can even be used to access services like getting a birth certificate, death certificate, water tax bill, etc.